Dear friends!
Just two days left! No time for long speeches – here are our last updates, short and clear, because we can't wait to see you in the streets of Berlin on our common big day!
You will hear speeches by SeaWatch and Jugend Rettet on the situation at the Mediterranean, by the No Stress-Tour about the living condition in camps, by Anne Wizorek on feminism and antiracism, by Berlin welcoming inititatives on the political situation two years after the "summer of migration", by school pupils resisting deportations of their friends, by communities from Afghanistan, Irak, Oromo, Syrien …
There will be music by Sookee, by Irie Révoltés, by faulenzA, by Pyro One, by Matondo, by Pudel Club Hamburg, there will be HipHop, Techno and Reggae, there will be radio, dancing and singing geben. Get your dancing shoes on, get your voice ready to sing and shout!
There will be theatre, dancing, arts, we will tear down walls and spread confetti. For some hours, for this day we want to show our dreams and desires coloured in all colours, loud and confident in the streets – so our demands will be seen and heard, so they will become true.
---

Presse Conference

On 13th of September, our press conference took place – together with people active in different areas of anti-racist politic – together with SeaWatch, medico international, alle bleiben!, commUnity carnvial and We'll Come United.
Read the press release in German on Aktuelles on our website.
You can find the video on our Youtube-Channel.
You can contact us for press issues at presse@welcome-united.org
---
Six minutes full of reasons why everyone should join.
---
Our action days
Since 2nd of September, in many cities in Germany and in Europe our action days are taking place. You can find the last and the upcoming dates in our calendar and many colourful pictures in our photo album.
---
Arrival
Everyone is coming – from everywhere! You can find on our webpage quite a long list and a map of buses and ride sharing arrangements as well as contact addresses. There is also an exchange platform for sleeping places and rideshare possibilities.
The buses will arrive at Lüneburger Straße/Alt-Moabit, directly at the starting point of the parade.
For urgent requests regarding your trip contact +49 1575 529 099 8.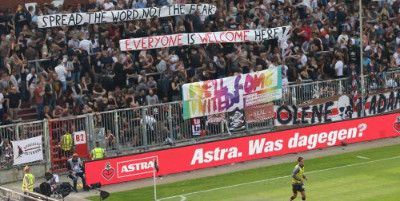 ---
Kick Off

At 9:30 o'clock (9:30 a.m.) we will start with the construction of the trucks directly in front of the Ministry of Interior (Alt-Moabit 140, access via Lüneburgerger Straße | about 200 meters from the Berlin Hauptbahnhof | see on google-map).
At 10:00 o'clock (10:00 a.m.) we will welcome the first bus convoys from all over Germany and the people traveling by train to Berlin.
At 11:00 o'clock (11:00 a.m.) our Carnival preparation camp will start where everybody is invited to help with the decoration, painting and preparatory work (same place in front of the Ministry of Interior)
At 13:00 o'clock (1:00 p.m.) the official kick-off of the parade will take place directly in front of the Ministry of Interior.
You will also find the very last information on Facebook.
---
The route
We will go from the Ministry of Interior to Kreuzberg Oranienplatz.
We will pass several important places: The Berlin main station, Bundestag, Ministry of Education, FDP headquarter, Humboldt University, Gorki theatre, Humboldt-Forum, Rotes Rathaus and many more.
The exact demonstration route: Alt-Moabit 140 (MoI – first and initial manifestation), Rahel-Hirsch-Straße, Hugo-Preuß-Brücke, Kapelle-Ufer, Reinhardtstraße, Friedrichstraße, Ziegelstraße, Tucholskystraße, Ebertbrücke, Geschwister-Scholl-Straße, Universitätsstraße, Dorotheenstraße, Am Kupfergraben, Bodestraße, Am Lustgarten, Schloßplatz, Karl-Liebknechtstraße, Spandauer Straße,
Mühlendamm, Fischerinsel, Neue Rossstraße, Annenstraße, Heinrich-Heine-Straße, Prinzenstraße, Moritzplatz, Oranienstraße, Oranienplatz (final manifestation).
---
Halfway manifestation
At Lustgarten/Humboldt-Forum, we will have a common interim manifestation with the Alliance for Sexual Self-Determination, which is calling on that day for an action day and a counter-demonstration against the "March for Life". Further information you can find in the german press release (Pressemitteilung).

---
Final manifestation
We will celebrate the parade and the final manifestation between 17:00 and 21:00 at Oranienplatz in Berlin-Kreuzberg – with speeches and a final concert, which is organized in cooperation with the Berlin-based alliance "Berliner Bündnis gegen Rechts". There will be speeches by We'll Come United, by the Berliner Bündnis gegen Rechts and by the What the Fuck-Alliance as well as a final big concert organised in cooperation with Berliner Bündnis gegen Rechts. Music will be played by: Mal Élevé von Irie Révoltés, Renovatio (antiracist Hiphop from Athens) and more.
Further last minute information on Facebook and on our homepage.
---
The 19 motiv trucks
Yes, this will be a real parade – with 19 trucks that are currently built, prepared, decorated and designed at different places. Speeches, music and shows will be practiced once more – then we will see the performance of:
BRISER LES CHAÎNS MENTAL von borderline europe – Menschenrechte ohne Grenzen e.V. und Corasol
SPACESHIP SOLIDARITY by Lampedusa in Hamburg, members of Recht auf Stadt – never mind the papers, Hazara Kultur Verein Hamburg
FERRIES NOT FRONTEX by Watch The Med – Alarmphone, Sea-Watch and Jugend Rettet e.V.
DE-WALLING THE WORLD von 18591km
OROMO COMMUNITY mit Oromo Community Groups
WE ARE HERE BECAUSE YOU ARE THERE mit Theater X / JugendtheaterBüro Berlin
BLEIBISTAN von Berliner Bündnis gegen Abschiebungen nach Afghanistan
RECHT AUF STADT – NEVER MIND THE PAPERS Lübecker Flüchtlingsforum e.V.
WOMEN EMPOWERMENT mit international women space, Women in Exile & Friends, Trixiewiz e. V.
BILDUNG FÜR ALLE mit Jugendliche Ohne Grenzen
SOLIDARITY CITIES mit Solidarity City Network, Freundlicher Mob
KASHMIR mit Kashmir Groups Berlin
ALLES ALLEN von Alles Allen
NO DUBLIN mit Osnabrück Sudanese Community, Refugees For Change, Lampedusa in Hanau
CITY PLAZA – mit former City Plaza Inhabitants, Welcome to Europe, Refugee Accommodation and Solidarity Space City Plaza
NO STRESS TOUR mit No Stress Tour
YOU CAN'T BREAK US by We are born free – mit Empowerment radio, We will rise, Corasol, MAP Football Group, alle bleiben!, Bündnis gegen Rassismus
FEMINISTISCHES NETZWERK mit Transinterqueer e.V., sookee, Anne Wizorek, i,Slam, BesD – Berufsverband erotische und sexuelle Dienstleistungen e.V. und vielen mehr
WAGEN DER FLÜCHTLINGSPOLITISCHEN INITIATIVEN mit Kreuzberg hilft, Willkommen im Westend, Moabit hilft e.V., Bündnis Neukölln und Willkommen in Lichtenberg
HEDONISTS INTERNATIONAL, die Berliner Sektion
---
Departure
We will conclude our day together with the final concert at Oranienplatz. Your buses will wait for you in the evening from 19:00 Uhr (7:00 p.m.) in walking distance of 20 minutes at Ostbahnhof (Koppenstraße/Erich-Steinfurth-Straße). There will be a team informing people how and where they can find their bus. Please check out the individual departure times with your travelling group!
---
Donations
"Buy the ticket, take the ride" – this should be possible for everyone on that day. You can find our solidarity ticket-campaign, every penny counts!
…or donate directly to our bank account:
Account holder: borderline-europe
IBAN: DE81 4306 0967 4005 7941 01
BIC: GENODEM1GLS
GLS Bank
Keyword: welcome united
---
Presse Reports

ome examples on the press releases on our action days and the parade on saturday the 16th (in german):
Taz "Karneval der Flüchtlinge" Printausgabe 14.09.17
Neues Deutschland Tanzen für Willkommenskultur 14.09.17
Junge Welt Protest gegen Lebensschützer 11.09.17
OP-online Vereint im Protest 11.09.17
Frankfurter Rundschau Für Solidarität mit Flüchtlingen 07.09.17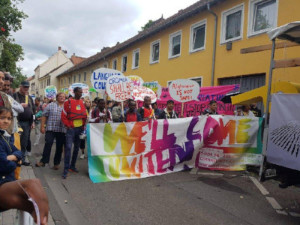 ---
Video, photo, contacs, social media
We are very happy about everybody who wants to take photos and make videos on that day.
Still: Visit us on Facebook (We'll Come United), like and share our page, invite your friends to take part in the event.
Find us also on our YouTube-channel: "Welcome United".
And follow #WelcomeUnited for news about the parade on Twitter! Post your pictures of the action days, the truck construction and the bus convoys!
---
After all:
… We Can't Stop Moving
Danach geht es weiter, für uns alle gemeinsam. Die Parade ist kein einmaliges Event, es sind in diesem Sommer viele alte und neue Netzwerke gewachsen, stärker und fester geworden – und vielerorts auch neu entstanden. Unsere Fragen sind dringender, denn je. Deshalb geht es am 4.-5. November in Berlin mit einem bundesweiten Treffen zur Auswertung und Planung weiterer Zusammenarbeit weiter. Eine ausführliche Einladung folgt bald.
---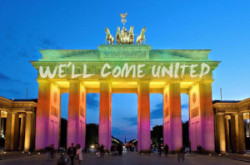 So much looking forward to seeing all of you!
 
Solidarity will win!
---