We`ll Come United
Newsletter #4 – 9th of August 2018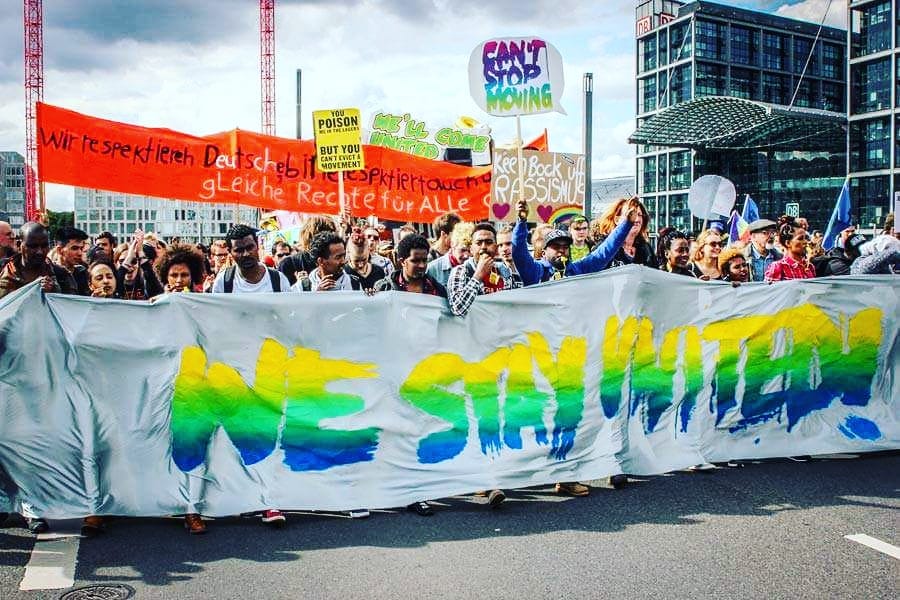 Yallah! Yallah! Yallah!
More than 20 trucks, almost 30 busses from 20 cities and many people in Hamburg keep undermining the city with rainbows in tireless molehill work: in eight weeks in Hamburg we will be turning the spotlights on the antiracist movement in all its breadth, diversity and in its old and new splendor. The timing could not probably be better: not only do we live in hard times, but also in times of new movements. Tens of thousands stood up against the judgments in the NSU trial all over Germany and for an proper elucidation of the right-wing terror. Every day, everywhere people go to the streets against the dying in the Mediterranean – the sea rescue organizations keep up their work instead of giving up, and even some European cities and city governments are showing solidarity. Over 15,000 said in a call we need "Solidarity instead of homeland". Many, many are fed up with the racist politicians and their fight – as well as the everyday racism, which has created in countless #metwo stories for a new outcry
It is enough, it is #ausgehetzt. We build sea bridges from Lampedusa to Ellwangen. While some defend the home of the few, we create the society of the many. See you in Hamburg – it's getting big!
………..
Hamburg against racism
More and more Hamburg groups, organizations, initiatives and people come from the summer break and now start through, the countdown is on: Hamburg is facing a late summer and autumn of solidarity!
More than four weeks before the parade, on the 24th of August, we invite you to the Millerntor Stadium Ballroom for the city-wide  ASSEMBLY: HAMBURG UNITED AGAINST RACISM – where as many voices say why and how they will take to the streets on September 29th.
The conference "Heimatphantasien" deals critically with the concepts of "nation" and "homeland". More information on Facebook.
2th of September: Large demonstration of the Seebrücke against dying in the Mediterranean and against the criminalization of the rescue – Hamburg in Orange! More information here.
New Hamburg invites you: On the Veddel runs from 15. to 30.9. Festival SoliPolis – Für eine Solidarische Stadt!  The festival ends in the parade on 29.9!
Our regulars' table from We'll Come United Hamburg is going great and continues: Every Wednesday from 8 pm on the shore, Neuer Pferdemarkt 3. Come by! More information here.
Questions? Want to joing? Write us to hamburg@welcome-united.org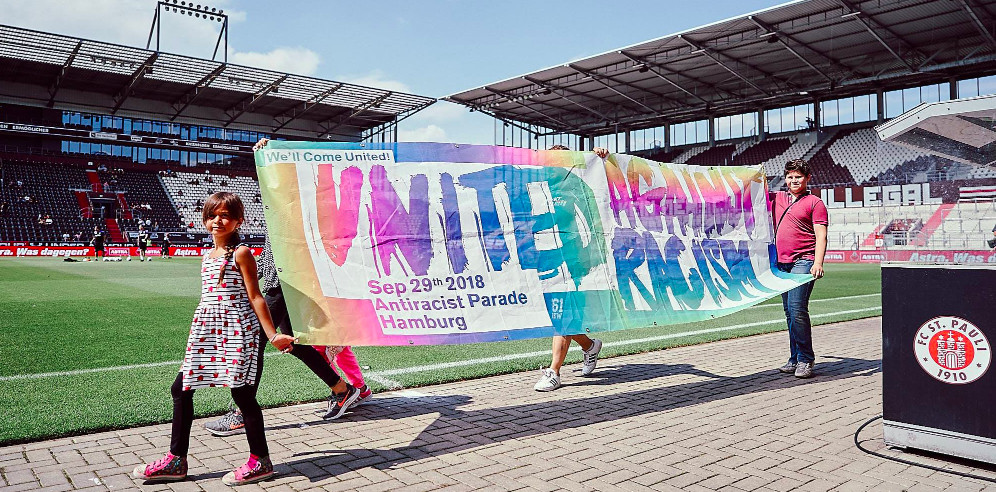 ………
Nationwide meeting on 25th of August
We've seen each other a lot and got to know each other many times over the years – whether at the joint conference by critnet, We'll Come United and Solidarity Cities in Göttingen, at the pier, at our big summer camp – but above all in our daily routine solidary cooperation in many cities in Germany and Europe. We invite you all to take part in the nationwide meeting in Hamburg, to join in the discussion and to decide how we want to make solidarity and anti-racism visible and strong – on 29.9. and every day.
We will talk about the further mobilization, the process and the program on the day of the aniracist parade on 29.9.18. In addition, we want to think with you together beyond September and discuss: How can it continue after? How is the year 2019?
More information and program on our Homepage.
………..
The best day of the year: Route, Time, Place
We will start on Saturday, September 29 at 12 o'clock in the city center at the Rathausmarkt with our opening rally. We get aroung the Binnenalster, go to St. Pauli to the Hafenstraße and the Landungsbrücken, where all the trucks on the Elbe line up to the Solidarity Promenade in the afternoon. There we will have time for exchange, food, performance, music and theater. At 17.30 the joint big closing rally and the evening concert will start.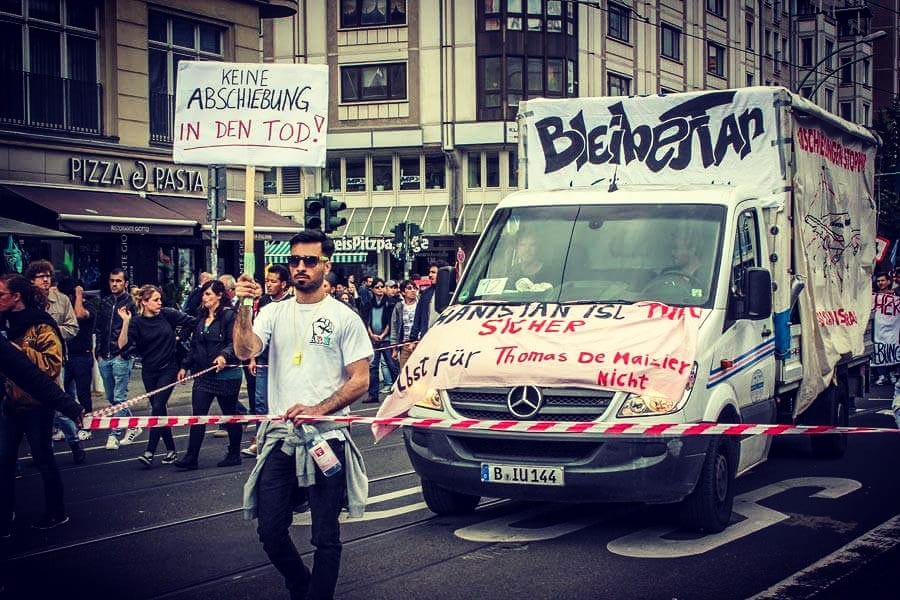 ………
Forth&back
Almost 30 buses have already been chartered: Halle, Erfurt and Jena, Leipzig, Halle, Dusseldorf, Cologne, Osnabuerck, Hanover, Lueneburg, Goettingen, Kassel, Wiesbaden, Hanau, Darmstadt, Frankfurt am Main, Berlin, Eisenhuttenstadt, Potsdam, Bad Belzig … and more are coming! As we try to get as many people as possible out of the camps, we depend on your donations (click here) – and that you yourself become active and organize more buses. Take heart, you have nothing to lose but your summer holidays! Detailed information about the buses, contact details for individual cities and arrival groups can be found on the Homepage.
…………..
The call: over 250 supporting initiatives
Our 
call in English
 and 15 other languages ​​has been signed by more than 250 initiatives and numerous individuals. Are you already there? Sign the call, forward it, make it known in your circle of friends and networks.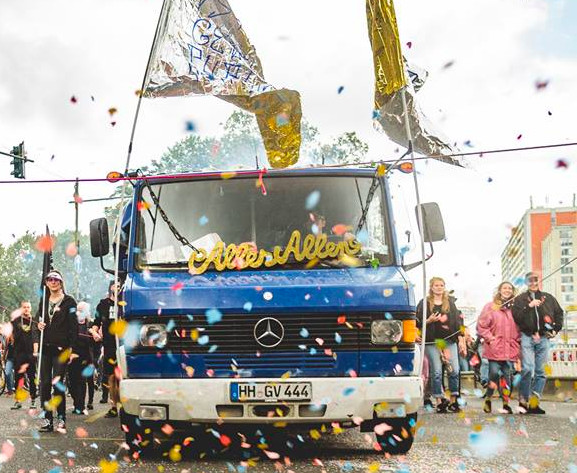 Donate
Your donations + our donation account = more tickets for the journey, more mobilization, more practical solidarity.
Our donation account:
……….
Material
We still have a lot of colorful material for the parade for you – posters, flyers, stickers, banners, button templates etc. etc. – which you can order on our homepage. Write us, order in large quantities! Placarded in your city, your area, at school, at the university, anywhere, distribute flyers, make your own material (we can also send you templates as needed). For material orders please mail to swarming@welcome-united.org

…………..
Summercamp
From 5 to 8 July, our summer camp with 250 participants took place on the site of the living project Quecke in Brandenburg – in the majority self-organized refugees from Berlin, Brandenburg and many other cities. There were workshops and exchanges on our daily struggles, legal issues, resistance to deportations, but also joint planning and preparations for the parade in Hamburg, shared dinners, music and children's program.