Final call
Newsletter #5 – 23th of September 2018

Autumn is coming – the autumn of solidarity has begun meteorologically as well as politically. Another week, then we will move with tens of thousands through Hamburg.
Chemnitz, Maassen or Seehofer – enough is enough. Now is our time. We turn on the light and turn up the sound. The mics to those who need them – to say how it is: The history of our society is the history of migration. It can not be stopped just as the solidarity of the many. So name us storytellers. We are there. We come. We stay. On September 29, 2018, the streets belongs to us – and how! Here are the collected information about program, route, concert and co.
---
---
Action website
Our page for the parade on September 29th in Hamburg is here: antiracist-parade.org! There you will find all the answers: when, what, where, why and how does it look like? Visit, save, forward!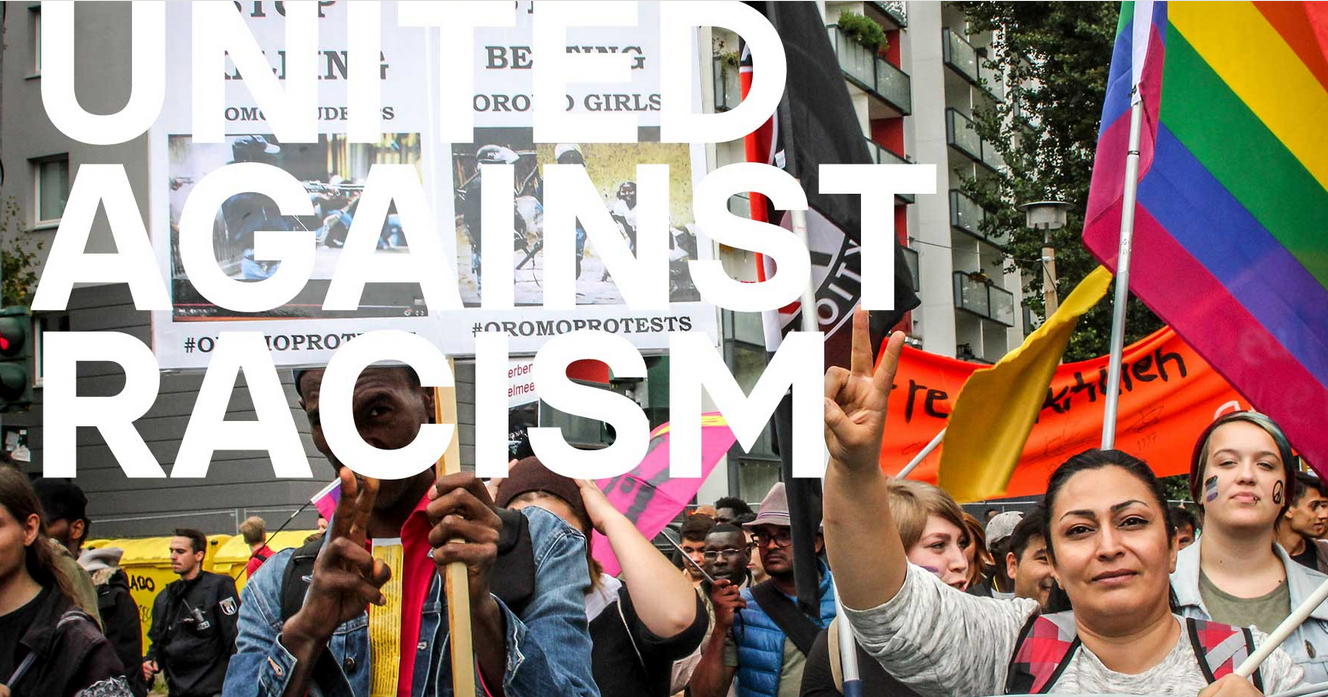 That one day: The start
Starting manifestation

12:00 Rathausmarkt
WELCOMING BY TRUCKS & PARADE
EXCLUSION, DEPORTATIONS AND EQUAL RIGHTS in GERMANY AND HAMBURG
We'll Come United-Network

---
That one day: Parade & Promenade
Big – bigger – parade! There will be 40 trucks – each truck with its own program, its own decoration, agenda and initiatives.
After the rally on Rathausmarkt the big parade starts. Here are just a few examples of what you will see in the truck program:
Queers United – Love is not a crime
City Plaza Hotel Athens
No final stroke – unraveling the NSU complex!
Stand up against deportation and make noise!
Boundless education for everyone
Women * United Truck
Erdogan not welcome – no deal with Turkey
Lampedusa in Hamburg – 5 years of resistance!
Romani Truck from Latveria
Go Heimat yourself!
Time for Justice – Decolonize Hamburg
Stop the mass dyine in the Mediterranean – Sea rescue is not a crime
Bleibistan – No deportations to Afghanistan!
Grannies against the right
Detailed information on all trucks, names and descriptions can be found at: https://www.welcome-united.org/en/trucks18/
---
PROMENADE OF SOLIDARITY

From 15:00: Hafenstraße – Landungsbrücken – this is where the trucks stand, where there is time and space to look at all the trucks and the program, to network and exchange ideas.
---
That one day: Final manifestation and concert
FINAL MANIFESTATION
MODERATION
Margarita Tsomou (Missy Magazine)
SEA RESCUE
Kathrin Schmidt (Iuventa)
Ruben Neugebauer (Sea Watch)
Wesam Alfarawati (Netzwerk Konkrete Solidarität)
EUROPE & SOLIDARITY CITIES
Ignasi Calbó (Municipality of Barcelona)
Olga Lafazani (City Plaza Athen)
FEMINIST MIGRANT STRUGGLES
Wissal Houbabi (Non una di Meno, Triest)
Jane W
(Women in Exile)
Jennifer Kanau (International Women Space)
TRANSNATIONAL RESISTANCE
Steve Nwaougu (Castaway Souls of Denmark/Europe)
Ibrahim Manzo (Alarmphone Sahara, Agadez)
Napuli Paul Langa (Transnational Tour "From Fear to Trust", Berlin)
Sissoko Azouman (CISPM – Coalition of Sans-Papiers Migrants and Refugees)
STRUGGLES AGAINST RACISM
Ibrahim Arslan (Tribunal "NSU Komplex auflösen")
Rola Saleh (Jugendliche ohne Grenzen Chemnitz)
WE'LL COME UNITED FINAL REMARKS
Allstars
CONCERT
with
Berivan + Wassim Mukdad
, Boza Crew,
Attackiert das System,
Rapfugees + Lia Sahin,
Das Bo
, Kastro,
Neonschwarz
, Mal Eleve / Matondo / Carmel Zoum,
Shkoon
---

Go ahead: the route
We start on Saturday, 29. September at 12 o'clock in the city center at the Rathausmarkt. If you arrive earlier, you are welcome to join us at 9:00 am and join us, decorate, paint banners, come up with slogans.
Start Rathausmarkt / Mönkebergstraße – Mönkebergstraße – Bergstraße – Jungfernstieg – Gänsemarkt – Valentinskamp – Dragoon Stable – J H Brahmsplatz – Sievekingplatz – Feldstr – Neuer Kamp – Neuer Pferdemarkt – Budapesterstr – Millerntorplatz
Here, the trucks will split into two demonstrations and continue on two routes: Reeperbahn – Pepemölenbek – St. Pauli Fischmarkt / Hafenstraße and Helgoländer Allee – Hafenstraße
After all, we all meet at the Hafenstraße and the Landungsbrücken, where all the trucks on the Elbe line up to the Solidarity Promenade. There will be time for exchange, food, performance, music and theater until 17.00 final rally and concert begin.
---
Donations
Your donations + our donation account = more tickets for the journey, more mobilization, more practical solidarity
Our donation account:
Account owner:
---
Autumun of Solidarity
On September 21st the Volksbühne hosted the joint press conference by #ausgehetzt / NoPAG, Seebrücke, #unteilbar and We'll Come United. No less than three major mobilisations for solidarity, anti-racism and a free society are planned in the next four weeks. In Hamburg, Munich and Berlin, tens of thousands of participants are expected to hold large-scale demonstrations, while daily demonstrations are held in countless locations for sea rescue. The autumn of solidarity is coming – join us!
---