Ferries not Frontex!
Safe Passage – For safe ways of entry!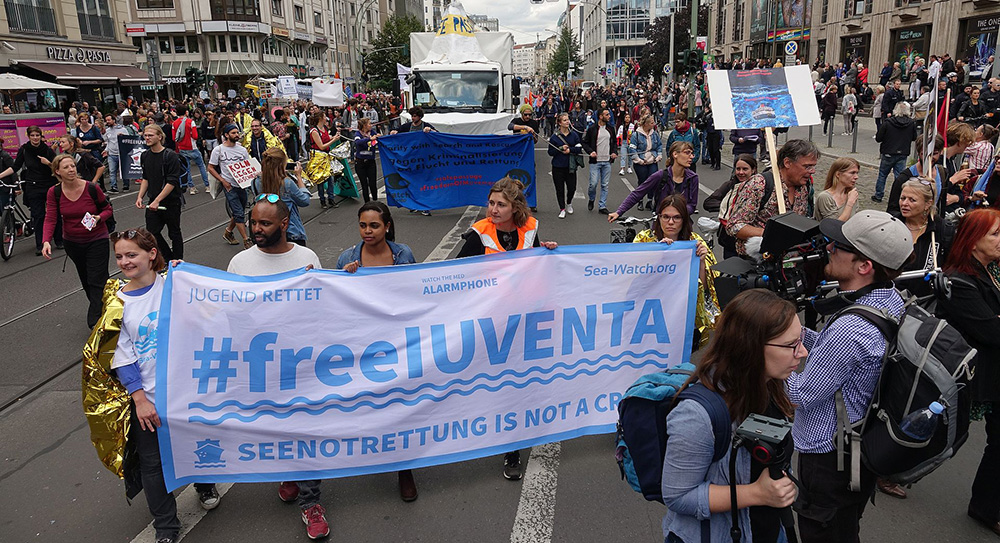 The organizations Watch the Med – Alarmphone, Seawatch and Jugend Rettet joined forces for the preparations of the big We'll Come United parade on the 16.09.17 in Berlin to highlight the possibility and the urgent need of Ferries for All in the Mediterranean. We demand Ferries, which would be safe passages and at the same time end the smuggler's businesses as no one would take one of their boats and pay huge sums of money for a possibly deadly route if Ferries for All would exist. We demand Ferries which could be organized fast and wouldn't drown. We demand Ferries which would put an end to the mass dying at sea already by tomorrow.
Our Ferry was more than ten metres long and four metres high, it was painted blue and white, fog came out of the chimney and our Ferries Not Frontex- and Safe Passage-Banners where waving throughout the whole demonstration. We went from the Ministry of the Interior in Berlin Mitte to the Oranienplatz in Berlin Kreuzberg and blamed the border and visa regime of the European Union for forcing hundreds of thousands of people to enter small and instable boats year by year. We protested against the criminalization of organizations that rescue people from distress at sea. We protested against the so-called Mobilization-Partnerships with Morocco and Tunisia, against the dirty EU-Turkey deal or the militarization of the Libyan coastguard and the unbearable inhumane conditions in Libyan prisons.
Our central demand still is to end the mass-dying in the Mediterranean now. We need Ferries not Frontex, we need Freedom of Movement for all and not borders with barbed wire; we need equal social rights for all and not the privileges of a few inside the Fortress Europe!
 Ferries not Frontex!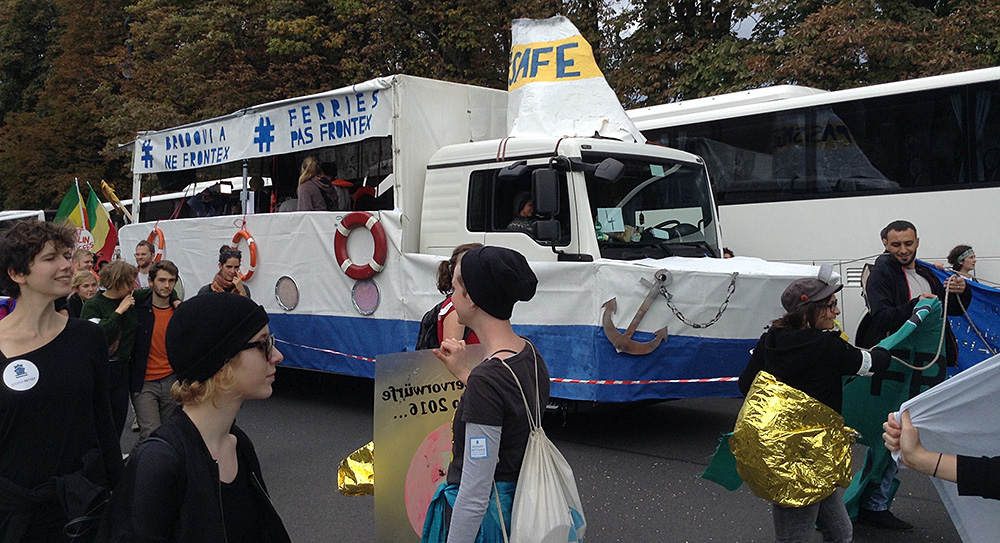 Common Speech of Lampedusa in Hanau and Sea Watch  on 16.9.17 in Berlin
"Against the death at sea and for safe passages" – in front of the Interior Ministry a common speech was given by two activists together: by Benyam from Lampedusa in Hanau and by Robel from Sea Watch. Alternating both of them shortly outlined their respective experiences in the central mediterranean sea and concluded with their demands:
"Benyam: My name is Benyam, I was born in Eritrea, and I grew up in Ethiopia. I had to flee from there, I suffered one year in a prison in Libya. In January 2017 I finally took the boat to Italy and a few weeks later I arrived in Germany.
Robel: My name is Robel, I was born in Germany, but my parents are also from Eritrea. I have been working for Sea Watch since 2015 as a medical doctor on Search and Rescue operations.
Benyam: I cannot swim, I had no life vest. But I had no choice. Together with 150 more people we started with a rubber boat from Libya. It was wintertime, the waves were high and after 4 hours on sea all of us thought we will not survive. But we were lucky. We met the rescue ship Aquarius from SOS Mediterranee and they saved us in last minute. Otherwise all of us would have died.
Robel: The humanitarian crisis on the mediterranean is not over at all! Yesterday, there were at least 7 boats in distress, some more got pushed back by the Libyan Coast guard, which is a violation of international law! 120 People only survived yesterday, as their sinking rubber boat was found by our new surveillance aircraft #moonbird. If the aircraft crew had missed them, they would have drowned for sure. When a rescue ship finally came, most of them were already swimming in the water.
Benyam: Rescue Organisations like SOS Mediterranee and Sea Watch, Doctors without Borders and Jugend rettet saved so many lives in the last years. Thousands more would drown, if these rescue boats were not on sea.
Robel: More than 5,000 people died 2016 in their struggle for freedom crossing the mediterranean sea. Its a shame for Europe. The visa and border regime forces the refugees and migrants on very risky routes. Meanwhile the EU does not provide rescue capacities.
Benyam: We learned about the confiscation of Iuventa, the ship of Jugend rettet. And about the pressure against the other rescue boats by Italy and other european states. But we need their daily support on sea. Otherwise much more people will die.
Robel: Sea rescue is not a crime! The humanitarian crisis on the mediterranean is a political crisis in the first place. Political solutions are needed instead of blaming the rescue NGOs and their activists.
Benyam: We are in front of interior ministry of Germany. We know about the influence of this rich country in Europe. We experience it in the EU-Turkey deal, now they work on another deal with Libya. I know Libya. Its the hell for us. We ask to stop this collaboration immediately. Instead we need safe passages to come to Europe.
Robel: We demand safe and legal passages, instead of dirty deals and we demand the end of the cooperation with Libya, which only aim is to control migration despite massive violations of the universal human rights. We have come here together…, united…, standing up for these human rights, claiming them for everyone, everywhere! No matter the origin, no matter the color of the skin, religion, gender or reason of flight! Peace! Lampedusa Hanau, and Sea Watch Out!"
Safe Passage – For safe ways of entry!
Ferries not Frontex!