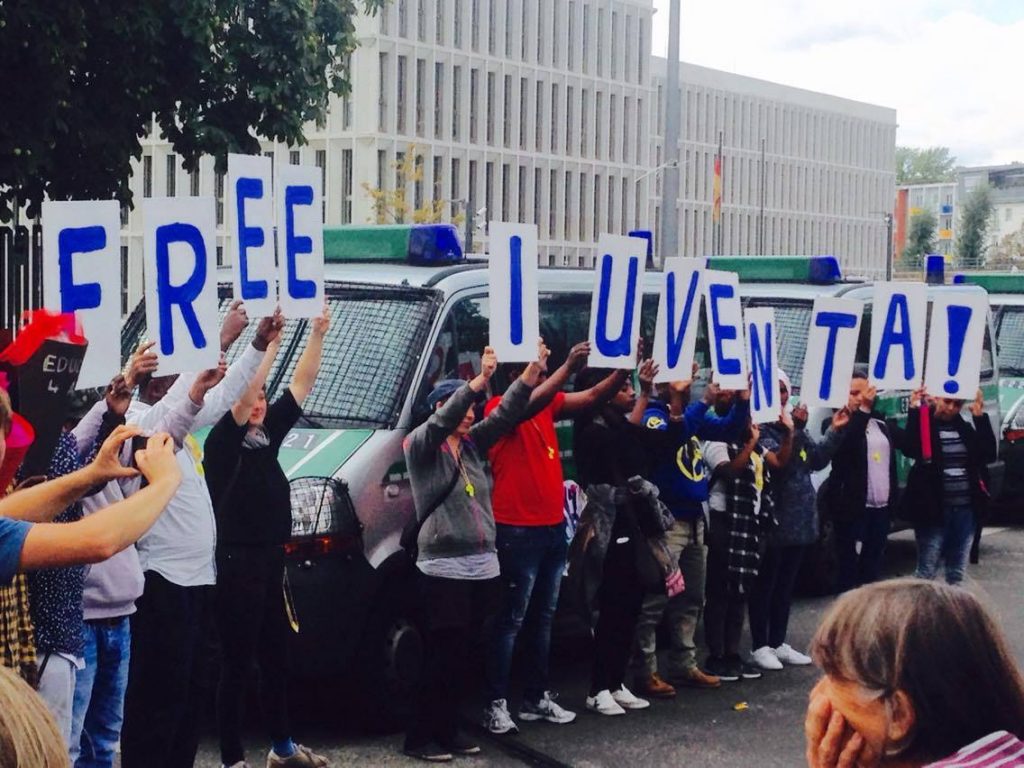 Dear friends,
when we move, the world moves. And there's a lot going on, we must tell you.
The first flyers and posters can be ordered and the route for the parade is already registered: 29 September 2018 in Hamburg will be the great day of our anti-racist mobilisation. Go ahead, rent the buses, submit your holiday and call everyone. UNITED AGAINST RACISM – It will be great!
At the same time, we keep on swarming out decentrally. Events and meetings take place in many places, and at the same time a variety of materials is produced in dozens of languages, which can be ordered immediately or soon in our "Swarming Office" in Berlin (see below).
"The grand coalition of anti-racism" is the title of the conference we are inviting to Göttingen from 10 to 13 May together with other networks. The first two days will be used for the preparation process of We'll Come United. Friday evening starts with a common, varied program of our networks.
From July 5 to 8, We`ll Come United is organizing a summer camp in Brandenburg. There we want to create another space for an intensive exchange of experiences and take another joint approach for a strong summer mobilization of the following 10 weeks until the end of September.
So long: No time for a break! United against Racism!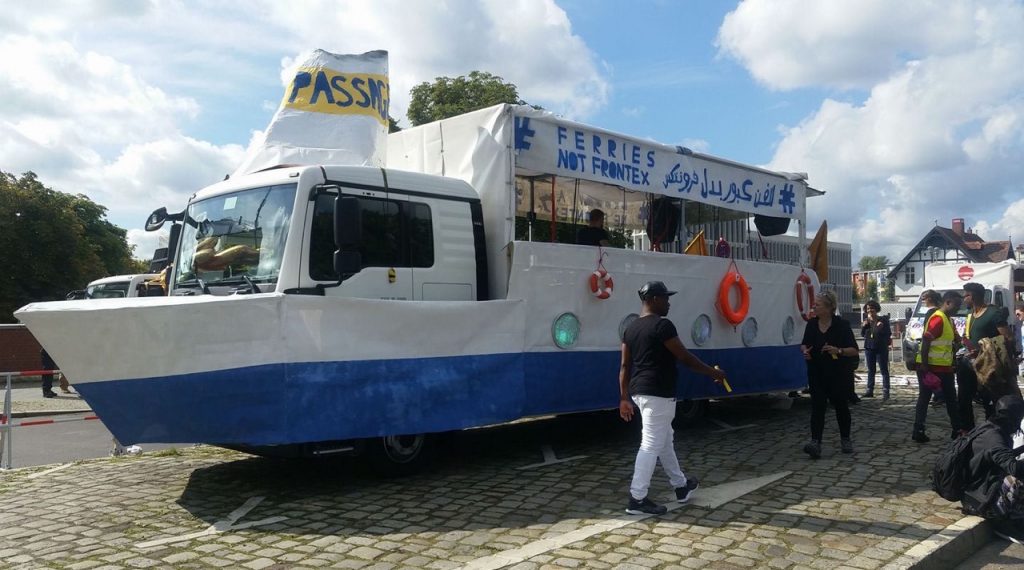 Parade 2018 – sign the call now
The call for this year's mobilization is ready and can be signed until May 10th with an e-mail to mail@welcome-united.org. You can find the German version here, the English version here.
Take a first look at the call:
"We know already that September 29, 2018 will be the most beautiful day of the year. It will be our day. We are many, we are different and we struggle every day on our doorstep. We'll all come together in September. We will come to Hamburg by car, train and bus. From villages and towns, from camps and shelters, from welcoming initiatives and aid organizations, from construction sites, schools and universities. With soundtrucks, performances, lyrics, music and carnival we'll chase away the cold, the racism and the heartlessness from the streets of the city. Together we'll draw a picture on the streets: the picture of our friendship, the picture of a diverse and fearless life in solidarity. When we move, the world moves!"
---
Hamburg: the route is set, meetings take place, printing machines are running
For Saturday, 29.9.18, a route for the parade was registered, which offers an optimum of publicity and at the same time enables as much local participation and support as possible. We start from several places in the city to meet near the harbour – we'll publish all information when the time comes. In monthly meetings, an active alliance of action is currently being formed with the aim of initiating a broad mobilization. And the Hamburg version of Swarming is on: with actions by Women in Action, Lampedusa in Hamburg and others – against Racial Profiling, for apartments instead of camps e.g. at the "Mietenmove" of Recht auf Stadt on 2th of June), against deportations and for solidarity concepts such as "citizen's asylum" and "urban citizenship" (e.g. in Arrivati Park on 7th of July) – for a city of solidarity, with equal rights for all (e.g. at the Solidarity Festival on the Veddel in the two weeks before the parade)! 
Who wants to participate: The next meeting with all AG´s and all others, who want to take part, takes place on Thursday, the 17.5., 19 o'clock, Kölibri! and/or contact us at hamburg@welcome-united.org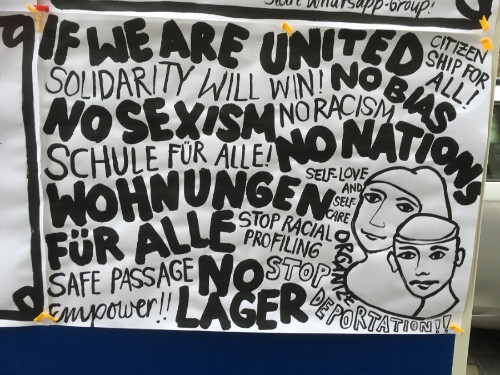 ---
Swarming-Office: for the circulation of struggles
In order to make different materials of mutual encouragement and exchange available "offline", a "Swarming Office" will soon be opened in Berlin. From information on rescue at sea to the practices of Solidarity Cities, from flyers against Dublin repatriations to "information against fear" of deportations to Afghanistan, Pakistan or Ethiopia: Here you can order printed guides and brochures in different languages. A first list of materials can be found on our website and everyone is encouraged and invited to contribute further information or translations and thus contribute to the circulation of experiences against the policy of exclusion.
We have already begun the exchange about the local everyday struggles, events and meetings have already taken place in different places. You are also welcome to contact us if you would like to invite someone from the preparation circle to a local meeting or event in your city or community.
Direct contact: swarming@welcome-united.org
---
Göttingen: Nationwide We`ll Come United meeting and the big anti-racist conference
Thursday, 10 May, is a holiday and we are making it a long weekend of anti-racism in Göttingen. We`ll Come United starts with an own network meeting (program here) at the House of Cultures (directions here) already in the early Thursday afternoon. From Friday noon on we will discuss the fight against deportations and experiences of self-organisation in workshops with the Solidarity City network. And on Friday evening, the conference will begin with a joint panel discussion at Göttingen University with kritnet and the discussion group on migration of the Rosa Luxemburg Foundation.
The extensive programme with lectures, many workshops and theatre as well as the possibility to register can be found here: https://16.kritnet.org
For both, the network meeting and the conference, please register asap: Regstration
---
We'll Come United Summercamp from 5th to 8th of July in Brandenburg
We found a good place: The camp takes place on the premises of KuBiB e.V., the "Quecke" in Falkenberg. There will be various meeting and working rooms, also for spontaneous creative ideas. Workshops, consulting, concerts, theatre, a handicraft workshop, a café and much more are planned. We take several days to discuss, develop strategies together and create tangible materials. We also want to cook together, drink coffee, make music, dance and have a good time.
Contact and registration for the Summercamp: welcomeunitedsummerschool@gmail.com or via Whatsapp: 015171872272